Heavy Duty Connectors (HDC connectors) are also called industrial connectors with it's rectangular shap.Cause it's huge advantages in wire connecting,heavy duty connector plays an important role in the connector market. when compare with traditional connecting ways,heavy duty connector with it's pre-installation function largely improve the efficiency and quality for the connecting task,also make the project more cost-reductive. Heavy duty connector are designed to fit the very harsh working conditions like dusty,raining,vibrations,hot and cold area,in order to fulfill the task to transfer the signal and power data to achieve the control process of the device.We will going to talk more details from it's Structures,Main technical specifications ,advantages and applications of our Heavy duty connectors.
1.Structure
Heavy Duty Connetors are combine with it's hoods,housing,male and femal inserts,cable fittings.This is the Main the parts of the whole set.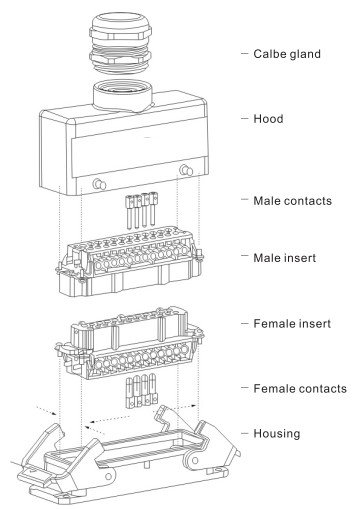 ● Housing
The housing is the connecting mouting parts will have four installation holes to connection with you device,and usually the housing will be together with single lock or double lock to help the housing connecting with the hoods,the housing of heavy duty connector are make of high strength aluminium alloy.And normaly the female inserts will be settles by screws together the housing.Sometimes the housing will be with protection covers.
● Hoods
Hoods are also make of high strength aluminium alloy,usually connected with male inserts,hoods are with low or high contructions,side or tope cable entry .2 or 4 bolts,1 or 2 locking levers.
● Male inserts
Heavy Duty connector male inserts are make of polycarbonate,can work under the temperature from -40℃ to 125℃ ,the flammability according to UL 94 will be V0,and he mechnical working lifes (put in and pull out times) must be more than 500 times.the most important parts -pins are connect with the inserts body by below three connecting ways:
·Screw terminal
·Crimp Teriminal
·Cage-Clamp terminal
● Femal Inserts
Heavy duty connector femal inserts are also very important parts which to connect with male inserts.And femal inserts also have the same termianl type with male inserts with modular design.
● Heavy Duty Connector Cable Fittings
Heavy Duty Connector cable fittings will be with different types,like cable glands with normal or multiple sealing.Metal or plastic cable glands,special cable entry protection or extensive range of accessories.Depends on different device and applications.
2.Specifications
HDC heavy duty connector it's a very specific products with accordingly standards and test requirements.
● Current Carrying capacity
The heavy duty connector current carrying is limited by maximum temerature of the materials for inserts and contacts ,Control and test procedures will be acording to DIN IEC 60512-3.Other specifications will be according to DIN VDE 0627,DIN VDE 0110,DIN EN 61984.
①:HE-6
②:HE-10
③ : HE-16,HE-32
④ : HE-24,HE-48
Heavy Duty Connector is also with flexible choice of Current,From 10A to 110A.Rated Current 10A usually according to HA,HD and HDD type as compact design of heavy duty connector.
● Pin Nos
Heavy duty connector pins are most important parts of the whole set,material with copper silver plated to reduce the resistance and cost when connect with current.Also HDC connectors are with various pins,from 3 pins to 216 pins.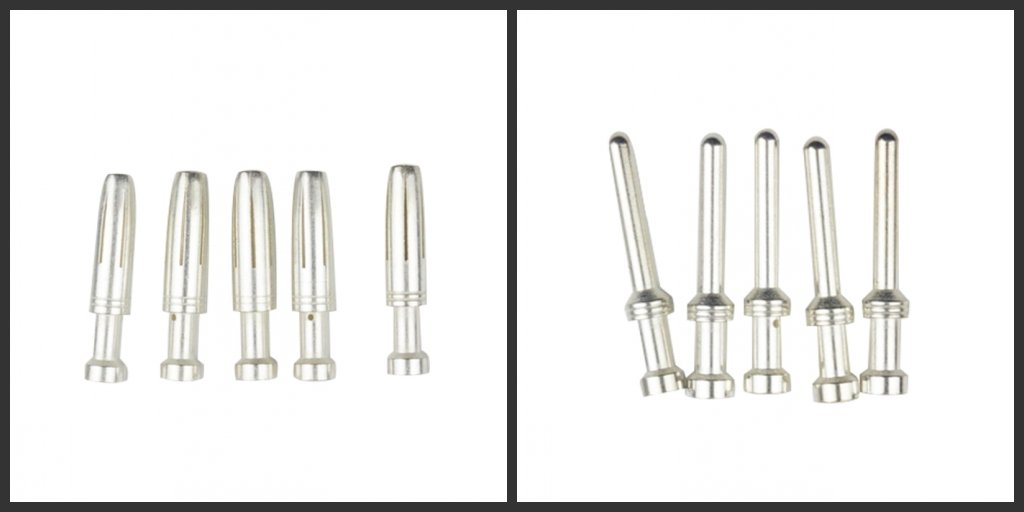 ● Voltage
Heay Duty Connector provide full range Volatge From Small to big including 250V,400V,500V,690V,each Volatge has it's own type heavy duty connector,such as HSB,HK type is for big Volatge.And for the rated impulsive voltage will be 4KV and 6KV.
● IP Class
Heavy duty connectors are also called industry connector because with it's high IP class,.As it's high strength aluminium alloy hoods and houisng,together with the rubber gasket protection degree from IP65 up to IP69k,which means heavy duty connector can fit and appicated into the harsh enviroments.
3.Advantages of Heavy Duty Connector
● Pre-Installation
Heavy Duty Connector's Modular design help it's can achieve the pre-Installation,only need to according the numbers on the inserts.It will be highly improve the effiency when facing large scale and complex electric circulars.Also can avoid the error when connecting.
● Various Combinations
The Heavy Duty Connector design with flexible choice,high density and compact design can achieve the operation in limited space,also provide with high current and high volatge with different type design according to different appications.
● Easy installation and Use
Heavy Duty connector are modular design,whole sets are easy to despatch andUse.Modular design also make the transmitt of the power data and signal more easy and qucik.
● High Lever Protection
HDC heavy duty connectors are with IP65 to IP69K,which can fully resist the dusty,oil,raining,snow.To achieve the control and working for the device in harsh and extremly climates condition.
4.Heavy Duty Connector Applications
● Power and electric area
Reliability, safety, economy, high energy, and environmental to power grid operation computer technology, And heavy duty connector and control technology is an important way to achieve this indicator.
Application Type;HA,HD,HE Type with high rated power and compact design.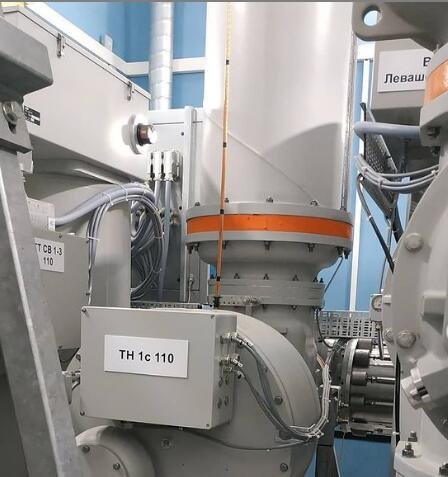 ● Power and electric area
Wind power generation is a power generation model with the most mature technology, the most large-scale development conditions and commercial development prospects among new energy sources.Heavy Duty Connector give the best support for the wind power generators.
● Hot Runner system connector/plastic injection molding
Hot Runner sysytem it's the critical parts in the moldings,Heavy duty connector are connect with it's temperature control system to lead the function of temperture control.Usually it will be 16pins and 24 pins for the hot runner system connectors.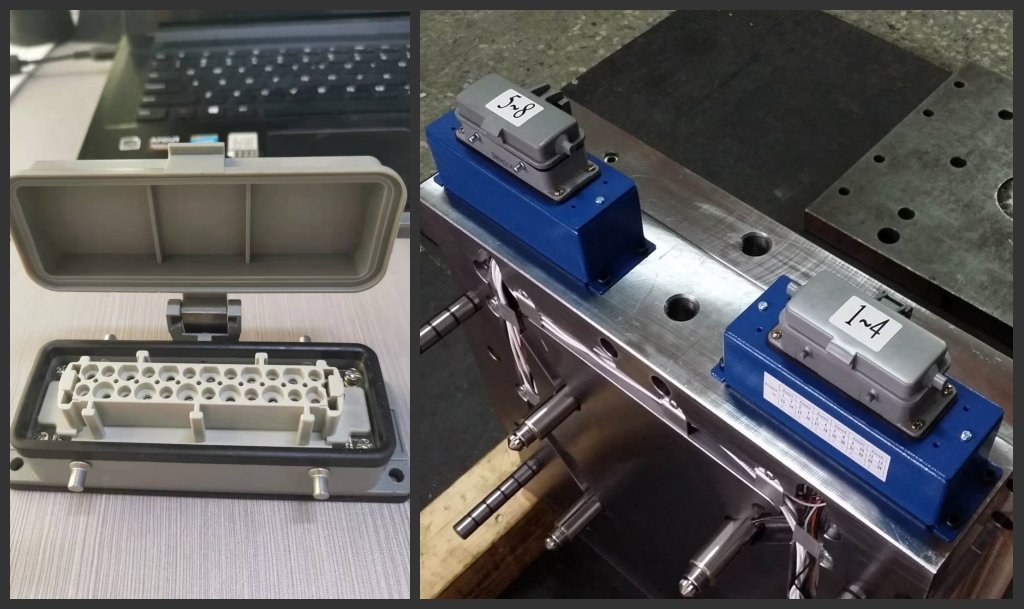 ●Automation Control/robot industry
After entering Industry 4.0, Robtics has played an important role in all fields of industry. His high efficiency and flexibility have made it an indispensable part of the industrial process, including flexibility and convenience in installation, use, production, and debugging. Heavy Duty Connector HE, HEE, HK, HM and other series products meet the diverse and flexible needs of robots in different fields.
Other applications like railways,crans,printing machines,laser cutting industry all need the heavy duty connector to provide the good and quick control ability for all the system.
Heavy Duty Connector future
In A word, although heavy-duty connectors have powerful and reliable performance and diverse designs that can meet the current requirements of various fields, with the development of industrial progress, the continuous progress of various sub-sectors will produce new connection requirements and designs. And the heavy-duty connector will develop further along with the development of the market. UMER heavy duty connector will keep up with the market's innovative consciousness and thinking, and provide customers with better and more innovative connection services.You can go to our website www.umerconnector.com to ask for more detalils and serives.We are glad to hear your story about heavy duty connectors.